Introduction To The ILD Interdisciplinary Network
The ILD Interdisciplinary Network (ILD-IN) aims to provide a supportive network for health professionals of all disciplines working in interstitial lung diseases. ILD-INs purpose is, to provide support, promote ILD specialty practice through education and professional development and to influence the policy of ILD care.
Development of the ILD-IN
The ILD Interdisciplinary Network (ILD-IN) developed over a period of several years as an informal group of ILD specialist nurses to provide peer support, ad hoc ILD educational study days and shadowing opportunities for newly appointed nurses working in ILD care. In 2015 that group re-launched with a committee and formalised the ILD Network first by consolidating the nursing element of the network around the principles of ILD care management, but also opening up the group to all healthcare professionals (HCPs) working in ILD care. INTERSTITIAL LUNG DISEASE – INTERDISCIPLINARY NETWORK LIMITED was limited by guarantee in March 2016.
We would like to thank our founding sponsors: Action for Pulmonary Fibrosis, Boehringer Ingelheim, Codel Software, and Roche Pharmaceuticals.
Future Evolution
The ILD-IN will keep evolving to meet the needs of ILD professionals mirroring changes in clinical practice. We are constantly looking for health professionals who are motivated to contribute to the network either as a member or as part of the executive committee. Join now or contact us for further information on how you can become involved.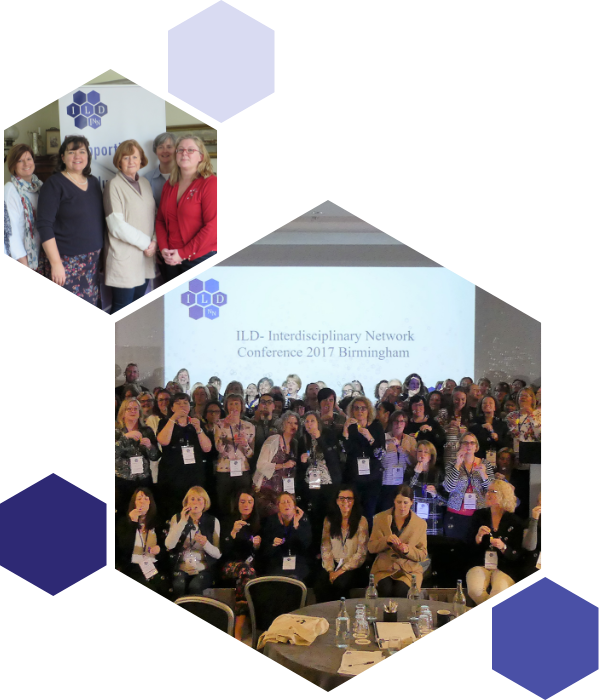 Mission Statement
Influence

To influence improvement and developments in ILD care

Act

To act as a professional body that can influence and practice in ILD care throughout the UK

Provide Opinion

To provide expert opinion to raise the standard and provision of ILD care

Collaborate

To encourage collaboration with all multi-disciplinary ILD specialists

Promote

To support and promote equality in service provision for patients with ILD and their carers through the UK

Support

To provide a supportive network for ILD network members to encourage information sharing, best practice and research collaboration
Meet the ILD-IN
Who are the ILD-IN?
The ILD-IN committee encompasses elected ILD-IN members, its purpose to run the network.
All Healthcare Professionals working with patients with Interstitial Lung Disease, the committee strives to be representative of the multi-disciplinary team and currently includes employed ILD Nurse Specialists, Physiotherapists, Pharmacists and Respiratory Physiologists. Committee members are elected and must hold a current membership. Ordinary members sit for a fixed tenure of 2 years which can be extended by a further year to a maximum of 3 years. Elected roles of Chair, Vice Chair, Secretary and Treasurer are able to extend their tenure to cover their period of office of 2 years in each position.
If you are a member interested in joining the committee please contact info@ILD-INN.org.uk