8th – 9th October Birmingham Conference & Events Centre
October saw in excess of one hundred delegates from the UK, Ireland, Europe and even America meet in Birmingham at the second ILD – Inderdisciplinary Network Annual Conference.  The Network would like to thank all that travelled to the event, the charities, corporate partners and exhibitors for helping to make it a success. We would also like to give a special thanks to our speakers Dr Huzaifa Adamali, Dr Melissa Wickremasinghe, Anne-Marie Russell, Emma Harris, Anna Murphy, Dr Sharon Fleming, Fiona Lang, Caroline Patterson, Dr Ben Hope-Gill, Professor Miriam Johnson, Reverend Dame Sarah Mullally, Dr Kathleen Lindell, Dr Gareth Walters, Dr Jennifer Hoyle, Dr Lisa Spencer, Dr Erica Thwaite, Professor Sherwood Burge, Sarah Agnew and of course our Chair Geraldine Burge for giving their time and creating what was a varied and challenging programme. Not to be forgotten a special thank you to Jane Scullion's who managed to make the very dry topic of competencies both interesting and highly entertaining with the addition of a bit of 007 glamour and humor at dinner.
Presentations of the event will be available in the members only section of the website. Please keep checking back in the meantime see the gallery below  of the event and watch out for further details of the mentorship programme.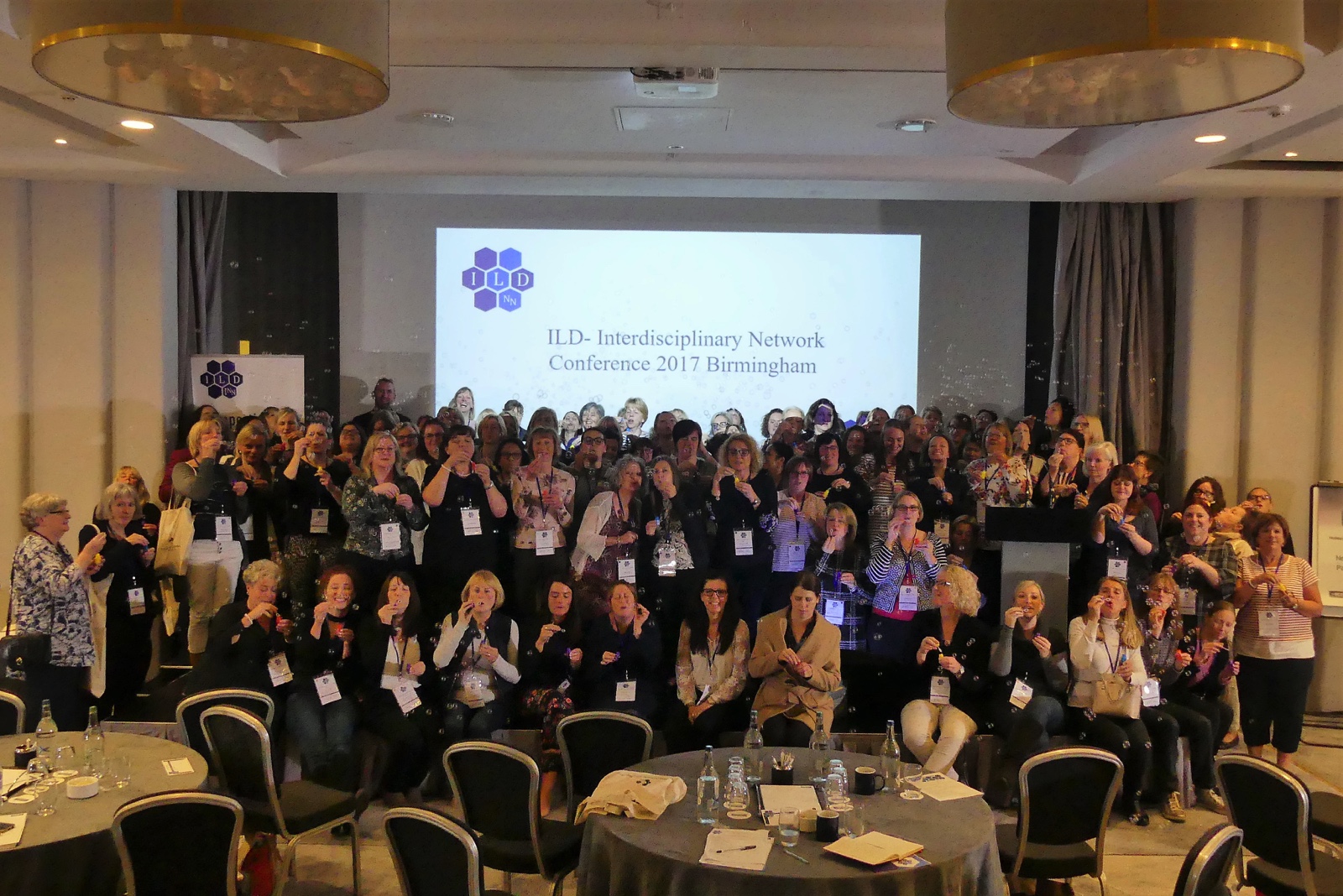 THANK YOU GERALDINE
In September 2015 we met in Birmingham for the first meeting of what was by the end of the weekend to become the ILD-INN. Little did we know at the time of the journey we were about to start and how far the ILD-INN would have come in just 2 years under the guidance of Geraldine Burge who agreed to sit as the inaugural chair. From the networks initial conception Geraldine has been the driving force behind the networks development. As a committee we have valued her support and eternal optimism in what has been a challenging role. Her drive, vision, dedication, knowledge, diplomacy, endless enthusiasm and gentle encouraging leadership style has let the network to where we are today. We all have a lot to thank her for both personally and professionally. She has delivered two inspirational conferences and along the way has learnt some new skills becoming the queen of twitter, those of you who follow her will be aware of her new found passion for tweeting. While we will miss her involvement in running the network she will continue as a member. On behalf of the membership the committee would like to offer you our sincere thanks Geraldine. Whilst we wish you a well-deserved rest we hope that you will join us at conference in 2018.
ON BEHALF OF THE COMMITTEE
THANK YOU FOR ALL OF YOUR HARD WORK, PASSION AND DEDICATION TO THE ILD-INN