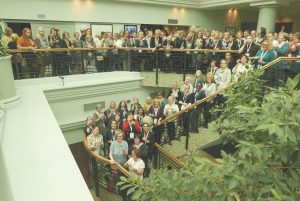 13th-14th October 2019 – Hyatt Birmingham
October saw in excess of 180 delegates from the UK, Ireland and Europe meet in Birmingham at the second ILD – Inderdisciplinary Network Annual Conference. The Network would like to thank all that travelled to the event, the charities, corporate partners and exhibitors for helping to make it a success. We would also like to give a special thanks to our speakers Dr Rachel Hoyles, Dr Helen Parfrey, Steve Jones, Professor Lesley Saketkoo, Professor Andrew Wilson, Dr Karen Marshall, Irene Byrne, Professor Sally Singh, Dr Simon Walsh, Dr Melissa Wickremasinghe, Professor Havi Carel, Nicola Cassidy, Louise Stanley, and of course our Chair Dr Anne Marie Russell for giving their time and creating what was a varied and challenging programme.
Presentations of the event will be available in the members only section of the website.
To view the photos from the event are displayed in the gallery page.
Topics include;
Hot topics in ILD
Hypersensitivity pneumonitis – insights in diagnosis and management
Infection and Idiopathic Pulmonary Fibrosis
Radiological image interpretation in fibrotic lung disease
Mindfulness and yoga in ILD
Life of Breath project. philosophical perspectives in health communications
Feedback from the 2019 conference attendees
"Was such a fantastic event and was really inclusive to everyone!"

"An excellent and varied two days. Very inspiring"

"Excellent conference. Wonderful opportunity to network. Excellent speaker, well organised and informative. Looking forward to next year, thank you"

"This was my first ILD conference. I was made to feel very welcome and made some excellent contacts for the future. My knowledge of ILD's has significantly improved and I will be passing on my new-found knowledge to my colleagues"